r43 is released, primarily focusing on re-introducing basic modding functionality.
Simple Monsters Re-implemented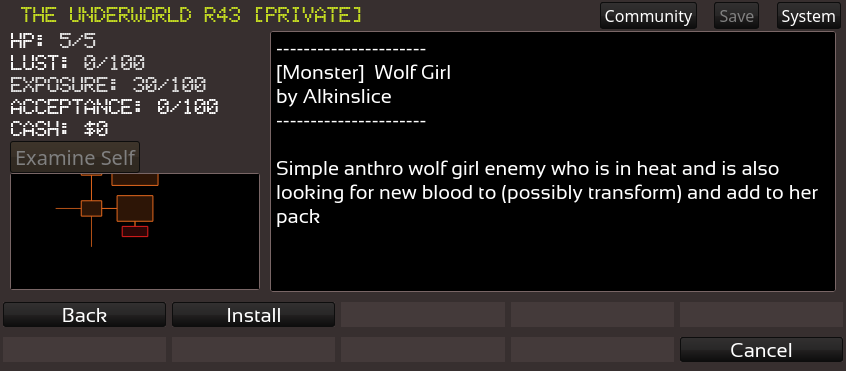 The mod browser works again, as do simple monster mods (ones without LUA code). This means you can create monsters in SCLab (no coding required!), play them in-game, and share them in the mod portal again (instructions here).
Note that this is only the start of re-implementing mod functionality.  LUA support has not been reprogrammed yet, so advanced monsters (as well as other types of mods like transformations, etc) do not yet work.  I have created a list of currently working mods.
Procedural Mod Monster Dungeon
There is a new procedural dungeon, currently located in SkyCorp HQ.  Like the procedural swamp dungeon, it creates a random map full of randomly spawned monsters.  This time, however, the spawned monsters are any loaded monster mods.  Any monsters you load using the mod panel in the debug rooms will be spawned into this procedural dungeon.
To make this technically possible, there is a new setting on the mod panel called 'Infer ID' which will auto-assign an ID to a mod even if the mod author didn't previously specify one.  You can toggle this setting or learn more about it via the mod panel.
Memory Fix
The previous version, r42, had an error when saving and loading games leading to exponentially larger save files.  This is now fixed in r43.
If you notice your game takes a while to load (I have seen some taking upwards of a minute!) you should re-save your file in r43 and try reloading it — it will hopefully reload and play much faster now.
I also have some functionality now to limit memory usage to prevent things from getting quite so out of hand in future, however, as this prevents loading the very large save files I plan to hold off on that for at least one version cycle.  So, any slow-loading save files on r42, please go ahead and resave on r43.
I also implemented a large-memory warning that would theoretically pop up if you have some mod loaded that's using massive amounts of memory (or in this case, a memory leak bug) and to help catch things before they get out of hand.  Unfortunately, it doesn't seem to consistently display on the production servers, so I'll have to look at that more in future.
Swamp DLC Progress
FYI behind the scenes, some more progress has been made on the sewers expansion, though none of that is visible yet (if you have WIP you might be able to see the new scenes in Naga's quest line, but there's no text in them explaining what they actually are).
PWAs / Android Chrome
If you recall, there's a PWA version of the game.  The PWA lets you add an icon for the game to your list of apps on your phone and launch it as easily as any other app.
Currently, when launching the PWA version of the game on Android, the bottom row of buttons is missing.  After doing some research, it appears Chrome broke something and it's affecting quite a few PWA applications, including us.
For now, I've disabled the PWA install on Chrome Android, though it can be force re-enabled via the pwa instructions page.  PWAs appear to still work fine on Desktop platforms, as well as iOS.  In addition, the bug that last year broke Firefox Android PWAs apparently just got fixed, so that might be working again as soon as the new Firefox build is released to their stable channels.
For Android Chrome, you can still play the game as normal, it's just via web browser only (which does support fullscreen and portrait/landscape orientations).  Just the only missing part is being able to have a convenient app-style interface for it — which you can still work around by using Chrome's Add To Home Screen on the build select page.  I could potentially make an (online) APK version via Electron or something, but before I look into it, I'd like to get a sense of how much people care about it.  So I posted a new poll:
Active backers can vote in the Researcher Intranet as usual for polls.
Fixes
Cow slugs (ooh, interesting combo :3) who use the slug still will now have both their milk and slime milked (#108)
Quit button now works on iOS (#101)
Exceptions during load, such as out of memory, should now display something user-visible instead of just black screen