Release 41.4 is out, and brings forward a number of features from the Flash version into the new non-web version:
Demo – Try out The Underworld without having to download Flash.  As with the old Flash version, the first three chapters are fully playable (today's art is a scene from one of them).
As the demo hadn't been updated in a long time, new demo users will probably notice the most changes in Haven.  Haven has NPC's who comment on you when you're exposed, and the trading outpost has a couple side-story scenes with Elijah.
Fullscreen – Activate in settings.
Queues – This isn't a new feature, but it might now be visible depending on how much traffic the demo gets.  If a lot of people are playing the demo at the same time, you may have to wait in a queue.  (Previously the server would just crash / not respond if it had too much activity, so this is actually an improvement ;)).  Anyone subscribed gets priority entrance through the queues.  Ideally there's no wait time even for demo players, so if wait queues become a common occurrence, I do plan to look into how to do proper autoscaling so no one has to wait.  But overall, a short wait is still better than all of skycorp breaking entirely as sometimes happened with new releases back in the day.
Mobile / Touch – A number of new changes make it possible to play the game on mobile devices again.  I've tested it in both Android Chrome + FireFox. Also, for the first time ever, this should mean you can play the game on iOS via chrome or firefox without needing a specialized flash-compatible browser.  (Take that, apple censorship! :p).
Mobile devices should be auto-prompted to rotate to landscape and enable Touch Mode: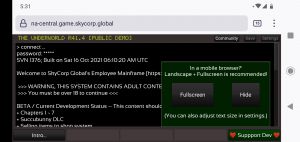 This will allow the game to be played as usual, without even having to download anything to your phone: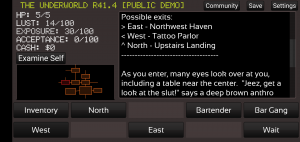 As before, touch mode enables larger sized buttons and the ability to scroll the text panes by touch-dragging them.  Touch-drag is currently very slightly janky on mobile firefox, but works well on mobile chrome.  (If you're using mobile firefox and this is important to you, please post a bug to the bug database and I'll investigate it further in future)
Legacy mode – If you got legacy way back in the day, the web version should now work for you.
Adjustable font sizes – Modify in settings.
Name entry – Enter male & female names during the intro.
~
I know it's been a while since there's been new content, and so my plan is to put engine work on hold for a bit to make some fun new content for the game next. There's also an awesome TF/TG art sequence that goes with it by a very talented TF artist that I'm looking forward to sharing, but have been holding until the accompanying game content is ready — so look forward to that!
After the content update, I'll return to engine work to finish things up (ex: modding, save/load, wyvern, etc).
In the meanwhile, please do report any bugs you find!
Art at the top is by myself — please excuse the programmer art!  I'm still a beginner, but it's fun to do art during the discord voicechats sometimes and more game art is always a good thing?