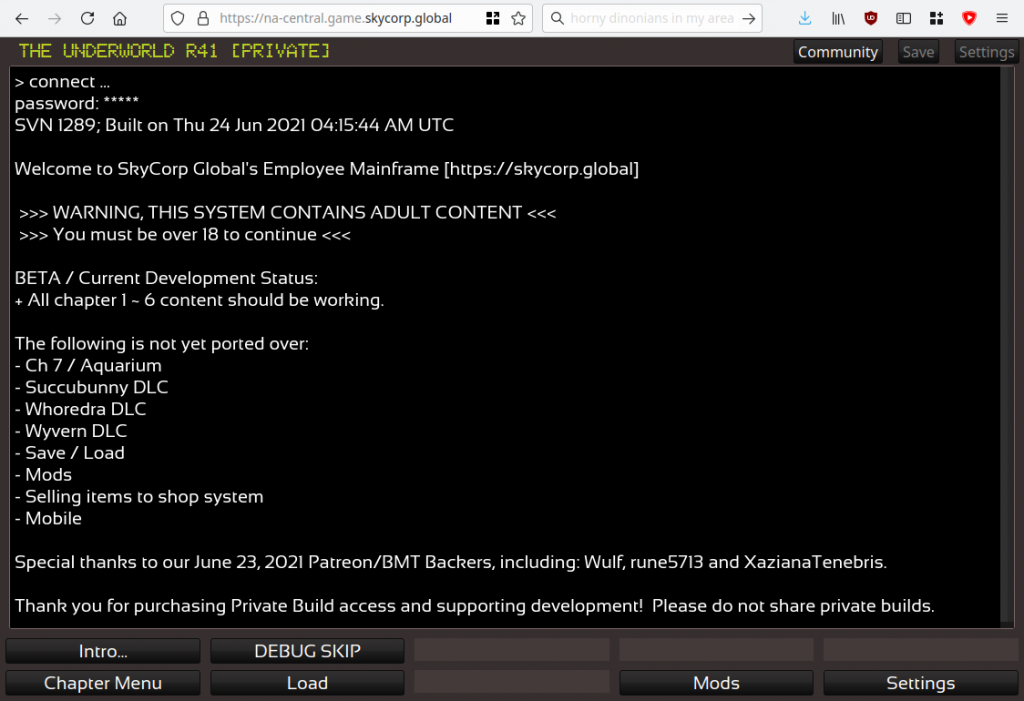 After much re-coding, the new engine is finally in a playable state!
This version is completely Flash-less, and will run right in your desktop web browser (tested in Firefox & Chrome).  Support for mobile browsers & a mobile progressive web app will be added in future.
Currently chapters 1~6 should be playable in the new engine, though these haven't been thoroughly tested so there will likely be some bugs yet.  (Speaking of, if the minimap looks really weird, try refreshing the page to fix it.)
For now, this build is only available to WIP subscribers via the usual Researcher Intranet, though it will be rolled out to all active subscribers soon.
Cookies / Log-out
This is about seven years overdue, but the researcher intranet now supports cookies so you don't have to manually log in every time.  You can also log out, too.
Automated Builds
In the Researcher Intranet, you will now see a new WIP build labeled "autobuild."  This is currently available to all WIP subscribers and reflects the absolute latest content in source control.  Just like all WIP builds, these aren't recommended for typical gameplay as they haven't yet been tested.  However, it may be fun to take a look at the absolute latest changes to see what's coming.
Similarly, there's a new #builds discord channel, which gives a sneak peek into what's being committed into source control as our trusty BuildBold tries to build each new commit and make it playable.
Currently, the #builds channel is viewable to everyone in Discord, though this may change to all subscribers, WIP, or no-one at all depending on if I'm working on something I want to surprise people with.  (Similarly, autobuild may sometimes be unavailable).
Artist Info Page
There's now a specific page for people to find out about contributing art for the game.  Sign-ups for that are open on an ongoing basis, and we already have one super awesome TF sequence complete.  I won't be revealing it until the accompanying game content for it is ready, but the artist did an amazing job and I can't wait to share it with you!
Backend / CDN
Lots of changes and upgrades to various server stuff on the backend, including: new OS, improved caching on the blog, in process moving a lot of static blog assets to a CDN, etc.